St. Marianna University Hospital
Consultation Hours
Reception Hours
8:30am ー 11:00am
Closed
Sundays, National Holidays, and the year-end and New Year holidays
Guide for International Patients
If you are a resident in Japan


Please bring your Japanese National Health Insurance Card and a referral letter (a patient referral document from your primary physician).


Our hospital is a special function hospital approved by the Japanese Ministry of Health, Labour and Welfare.


As a general rule, patients need a referral letter to see a doctor at our hospital.
*If you do not have such a letter, you're required to pay 7,700 yen as the "selected medical treatment fee," to receive consultation at hospitals like university hospitals.
*You will also be required to pay 7,700 yen, even if you have not seen a doctor in one particular department for more than 6 months.
*These fees are designated by the Japanese Ministry of Health, Labour and Welfare.




If you are not a resident in Japan and do not have Japanese National Health Insurance (visitors on business trip, tourists, staff at embassies or international organizations based in Japan)


Unless you have an international travel insurance, you'll need to pay necessary medical expenses after consultation or hospitalization. (Medical bill may be high depending on examinations such as CT or MRI.)
Medical reports or referrals in English will be charged separately.
In case of hospital admission, we may ask you a deposit payment in advance by cash.



We ask for your understanding. Thank you.
Documents Necessary for Your first visit
We are required to confirm identify of all patients at the time of registration by public documents, such as Japanese Health Insurance Card, Passport, and Alien Residence Card. Please bring these documents with you at the time of your visit to our hospital.
Outpatient Consultation Flow: General Flow on the day of Your Visit
Please fill out your Registration Form and register at Number 1 (11) "Registration" counter on the 2nd floor (entrance level). We will make a copy of your health insurance card, other IDs and a referral letter.
We will make a hospital ID card and an Outpatient Reception Sheet and show you where to go for consultation.
Once you go to the department at which you have consultation, please give your Reception Sheet at the department reception desk. They will give you a number. (To protect your personal information, we will call your number, so please hold on to the number until you go to the cashier.)
Our Approach to Minimising the Waiting Time
We provide outpatient consultation to almost 2,000 patients every day. As a result, patients are usually expected to wait from 30 minutes to an hour. We will, however, ensure that we respond to any urgent cases or sudden worsening of condition if deemed appropriate.
Follow-up Appointments/Return Visit
Consultation Hours
Reception Hours
8:30am ー 11:00am
1:00pm ー 3:00pm
Please confirm the outpatient consultation schedule in advance (Outpatient Consultation Schedule), as some clinical departments may be closed for examinations or operations.
Closed
Sundays, National Holidays, and year-end and New Year holidays
Follow-up/Return Appointment
In cases where a patient has been specifically instructed to have a regular checkup or follow-up visit by our doctor(s), he/she should have made an appointment with his/her physician at the previous visit.
Once you arrive at the hospital, please slide your hospital ID card at the return-visit reception machine.
Take your hospital ID card and the reception slip that comes out from the machine to the department you have an appointment with. They will give you an assigned number (they will call you by this number to protect your personal information, so please hold on to it until you get to the Cashier.)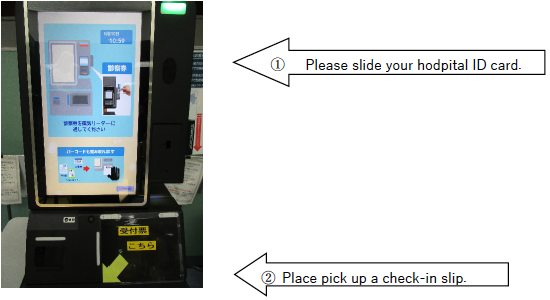 If your last visit is more than five years ago, your medical record will not be in the system. Please go to the Reception Desk #1 (11) with a registration form, just like the first visit.
Please wait in the waiting area of the department you are going to visit. To find out the number of patients waiting for the appointment in front of you, you can check the general display panel in the waiting area.
Referral letter from other Medical Institutions
A referral letter from other medical institution is an important source of information for our doctors. We highly recommend that you come to our hospital with a letter. You may come to our hospital without one, but you'll be charged extra. (Please read the relevant information in the First-visit section.)
Please make sure that your referral letter is addressed to an appropriate department at St. Marianna University Hospital.
Change or Cancellation of your Appointment
In case you need to change or cancel your appointment, please call the number below between 9:00am ー 5:00pm (Monday – Friday).
Tel: 044-977-8111 (available only in Japanese)
Tel: 044-979-5736 (direct number, English-speaker available)
If you need to make changes to your test or examination time/date, you will need to discuss it with your doctor.
Payment
Cashier
Once you're done with your consultation or test/exam, the receptionist of each department will give you a clear file with payment slip. Please submit the file to the cashier on the 2nd floor.
Once the calculation is finished, you can pay by the automatic payment machine in front of the cashier.
You can make payment either by cash or credit card.
We accept major credit cards:
JCB, AMERICAN EXPRESS, VISA, Master Card, Diners Club, or J-Debit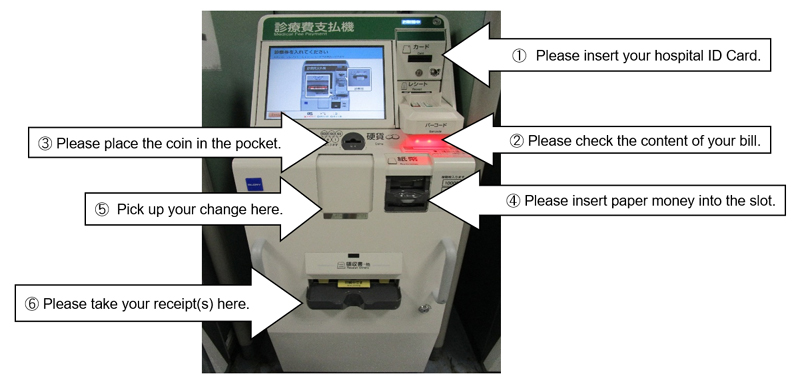 Please insert your hospital ID Card.
Please check the content of your bill.
Please place the coin in the pocket.
Please insert paper money into the slot.
Pick up your change here.
Please take your receipt(s) here.
Medicine
If you receive a Prescription for your medicine, please take it to pharmacy located outside our hospital. There are several pharmacies available around the hospital. You may take it to a pharmacy near your residence or work. In any case, prescription is valid only for four days (including the day of issuance).
*In-hospital prescriptions are issued only for investigational new drugs and in-house formulation.
Parking
We have parking lots available for our patients and visitors.
Once you enter a parking lot, there is a camera that automatically takes the lisence number of your car. Please note the 4-digit number on the lisence plate.
The parking fee is 300 yen for up to 2 hours. After that, 50 yen will be added for every 30 minutes.
If you're a patient and have parked your car for more than 3 hours, a service ticket will be issued at the outpatient accounting counter. please present your parking ticket at the outpatient accounting counter.
Once you return to the parking lot, please push the 4-digit number of the lisence plate. The machine will show a picture of your car. If it's a correct car, please insert the parking voucher. With the voucher, the parking fee will be 400 yen up to 4 hours.